CJ is here and ready to share my craftiness with the world!
Here will be my craft journal. I hope you enjoy my creations and can learn something here. I love to get ideas from others so I'm hoping I can help spark an idea in your world. To see some of my past crafts you can see them on the website ourdiydiaries. It is such a fun website so be sure to follow them. Thanks for reading and I hope you come back soon!
I would love for you to follow me! I'll return the favor! And grab a button if you so choose!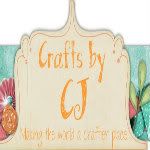 "/>